Many cruises begin or end in Seward. What is there to do? Is it possible to stay a few days before or after? And how do I get there from Anchorage…or back?
First, let's get there!
You need a minimum of about 2 1/2 hours to travel between Anchorage and Seward. The 125-mile trip between Anchorage and Seward follows the Anchorage-Whittier route for its first 50 miles, then veers off into the heart of the Kenai Mountains, skirts Kenai Lake and passes the road to Exit Glacier inside Kenai Fjords National Park before arriving at the port. Any additional stops along the way will add time to your journey. Be sure to plan accordingly.
Cruise lines offer transportation from Anchorage to Seward. Generally, this puts you on a bus or motor coach. This can be the simplest and most direct option and is a good choice for people on a tight schedule. If you are taking the bus on the day your embark, you also have the opportunity to meet some of your fellow cruisers.
If you don't want to be the first one on the ship, or are staying a day or two in Seward, consider booking your connection through a local tour operator. This opens the door to adventures and interesting sights along the way. There are many good tour operators in Anchorage. A quick google search will give you lots of options. A fun option is Salmon Berry Tours. This transfer takes 7 hours and includes a stop in the quaint town of Girdwood, with lunch at a local eatery, a trip up the side of of Mt. Alyeska on an aerial tram and a visit to the Alaska Wildlife Conservation Center. https://www.salmonberrytours.com/tour/anchorage-to-seward-transfer-and-tour/
If you are going to Anchorage from Seward, a fun tour to consider is the Big Swig Alaska Crafted and Cruise Transfer. https://www.alaska.org/detail/big-swig-tours
This tour is a ONE-WAY tour from Seward to Anchorage. Big Swig Tours will pick you up at the cruise port. Your first stop is Alyeska Resort, where you'll board the Alyeska Aerial Tram to the top of Mt. Alyeska (2,300 ft). The tour includes lunch at the Bore Tide Deli while taking in the incredible views of the Chugach Mountains studded with glaciers. Your next stop is Girdwood Brewing, newly opened in 2017. After this you will drive back to Anchorage, stopping at the largest distillery in Alaska, where you can sample the spirits straight or in a cocktail. The final stop is Double Shovel Cider Company, the first micro-cidery in Alaska. Big Swig Tours will drop you off at your Anchorage hotel or the Anchorage Airport after the tour. Price is $359/person, May-September. It begins in Seward at 9am and ends in Anchorage at 5:30pm, with a maximum of 14 passengers.
Another fun option is the train.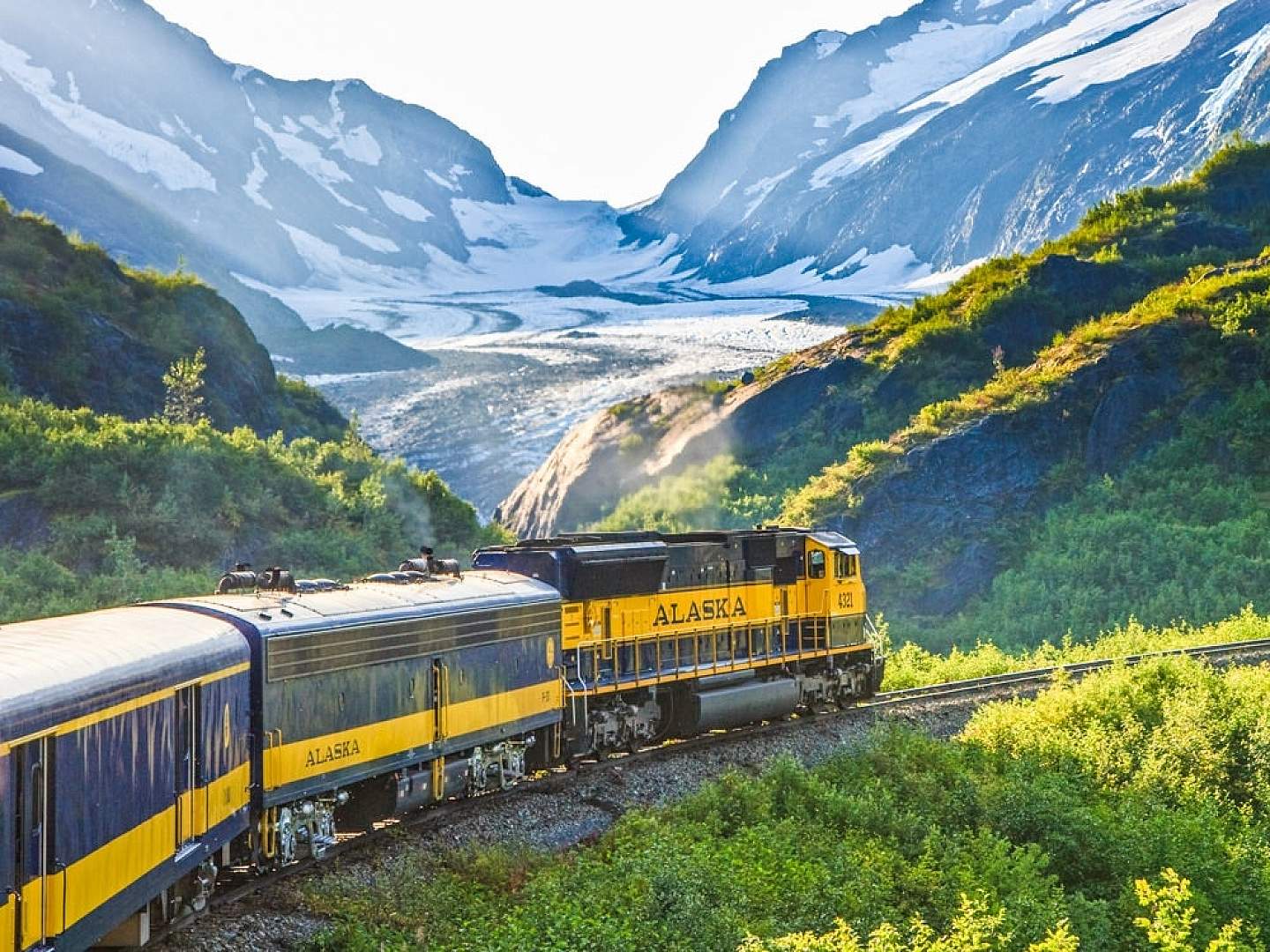 The Alaska Railroad Coastal Classic traverses Turnagain Arm and then the Kenai Mountains on a historic backcountry route. The train passes three active glaciers while crossing a tract of almost inaccessible wilderness. The 120-mile rail excursion—the most scenic in the state—takes about four hours.
Adventure Class service features lower level cars with comfortable seats beside large picture windows. The Gold Star service features upper level (second story) seating with domed windows, bar, outdoor viewing deck, and a dining car just below.
You can walk around the train while en route, use restrooms, eat in the dining car and catch the view through windows on both sides. Luggage is checked in the baggage car while you bring carry-on items with you. The train slows for wildlife—bald eagles and their nests, moose, even (sometimes) bears. You will see glaciers, waterfalls, wild rivers, big lakes, rugged mountains and extensive wetlands.
Costs and time will vary, depending on when you go. The Alaska Railroad website has all the information, times and prices. https://www.alaskarailroad.com Be prepared to get up really early to catch the train….it leaves at 6:45am!
Well….you've made it to Seward! There are so many fun and adventurous activities in Seward. It is a very walkable town. The pedestrian friendly port village has tons of activities, restaurants, museums and a public aquarium, plus hiking, paddling and fishing. It's a launch point for deep-sea fishing and marine tours into Kenai Fjords National Park.
If whale watching and/or glaciers are on your must do list (and let's be honest…your in Alaska, so it probably is!), a visit to the Kenai Fjords is a must. This is Seward's most popular excursion and is a comfortable and affordable way to experience wildlife and glaciers. Trips range from 3.5 to 9 hours. The further out you go, the more likely you are to see wildlife and tidewater glaciers. Day cruises are perfect for groups of all ages and activity levels. Lunch and dinner options are available on many itineraries. This is also an excellent option if you want to do something prior to embarkation. A short tour works well, as most ships don't depart until evening.
https://www.seward.com/things-to-do/tours/day-cruises-and-boat-charters/
You have plenty of other options available also. Flightseeing, fishing, the public aquarium, hiking and even dog sledding.
Seward is home to some of Alaska's most accomplished mushers. The Seavey family boasts 8 Iditarod Championships, with Dallas Seavey tying for the most wins ever after earning a fifth victory in 2021, and Travis Beals and Sarah Stokey both have memorable finishes in "the last great race on earth." It's the dogs, though, that steal the show on any dog sledding or kennel experience.
Take a kennel tour and explore behind the scenes of an Iditarod sled dog team with detailed tours of facilities, training programs and more. Help the excited pups train for the Iditarod by hopping in a wheeled "sled" and touring the property. These family-friendly tours are fun and affordable. Each summer there are puppies that enjoy being held by friendly visitors.
For a unique adventure, take a scenic helicopter flight to a remote glacier across Resurrection Bay and enjoy a snowy dog sled ride surrounded by icy mountain peaks. Your family will talk about this exhilarating experience for years to come.
Lodging options run the gamut from campsites to luxury hotels. I have personally stayed at Harbor 360 Hotel and can highly recommend. Great location and you have incredible views!
You won't go hungry in Seward! There are many restaurants, bars, snack spots, coffee bars, breweries and pizza. If you love seafood, you have hit the jackpot!
Whatever you decide to do while in Seward…whether it be for an afternoon or overnight…you will thoroughly enjoy it. There is something magical about Alaska…the air, the people, the mountains, the ocean. Have a fabulous vacation!
Visit my amazon store for helpful cruise and travel products. www.amazon.com/shop/travelswithmickey
This post also has some good suggestions for cruising. https://zest4travel.net/2021/10/31/things-to-be-sure-to-pack-for-your-cruise/
If you found this information useful, please share on Facebook or pin to your favorite board on Pinterest. Links can be found below. Thank you!
*As an Amazon Associate, I earn from qualifying purchases.